About Us
Thank you for visiting Erica's Vanity where you can shop at affordable prices! As a passionate MUA having the latest products in hand can sometimes get pricey. That's why I wanted to sell products at affordable prices to fit everyones needs. We really hope you love the products as much as I do. I plan on expanding my line of products and with your help in sharing our page we can get there soon. Don't forget to follow our social media platforms and use the hashtag #ERICASVANITYSHOP for a chance to be featured! We hope you come shop again soon!!!!
XOxo Erica.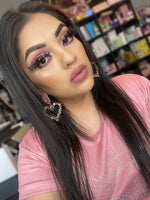 Safety Disclaimer:
This disclaimer is meant to explain that each customer needs to take precaution when applying ANY glitter to the immediate eye area. Anything that falls into your eye, can cause irritation to the cornea. Erica's Vanity Shop is NOT responsible for how the customer applies the glitters. In this disclaimer, Erica's Vanity Shop explained that glitter used around the eyes or face is deemed unsafe and Erica's Vanity Shop will not be held responsible for improper usage. 
So we at Erica's Vanity Shop leave the decision completely up to you (My customers) 
We do however recommend always testing any products on your arm or wrist before applying to your face.